Madikwe Hills Private Game Reserve
Set within 75 000 hectares of safari park, Madikwe Hills Private Game Lodge is situated on a hill in the heart of the malaria-free Madikwe Game Reserve in the North West Province of South Africa. Ingeniously located amongst boulders and age-old Tamboti trees, the private game lodge offers visitors the most amazing South African safari adventure, where you will be enchanted by a world of intrigue and majestic beauty.

Madikwe Game Reserve is home not only to the Big Five of Africa (Lion, Buffalo, Elephant, Rhino and Leopard), but also to a wealth of over 66 mammal species, including the rare African Wild Dog, as well as Cheetah, Eland, Kudu, Giraffe and a range of more than 300 resident and migratory species of birds.

Situated on the Botswana border, just three hours' drive from both Johannesburg and Pretoria, Madikwe is one of the largest private game reserves in South Africa. The safari reserve consists of vast plains of open woodlands and grasslands, dissected by a ridge of rugged hills and bordered in the south by the Dwarsberg Mountains. The area is dotted with huge rocky outcrops known as inselbergs. Madikwe is one of few game reserves in the world that was proclaimed a wildlife reserve purely on the grounds of being the most appropriate and sustainable land area for such use.

The Madikwe Hills team looks forward to welcoming you to a magnificent safari in South Africa, showcasing wonderful wildlife and fulfilling your every wish, making your safari to Africa the ultimate in privacy and luxury.

The total dedication and passion of the team at the Madikwe Hills Private Game Reserve ensure that every guest departs with a memory of an African safari never to be forgotten. From outstanding wild life holidays to unforgettable safari weddings and honeymoons - Madikwe offers the complete adventure in South Africa.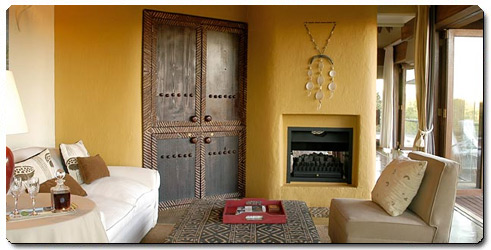 ACCOMMODATION
--------------------



Madikwe Hills consists of a Main Lodge with ten suites, and a private camp, Little Madikwe Hills, accommodating twenty-four guests in total.

At the Main Lodge, ten ultra-luxurious glass-fronted suites complete with their own deck and private plunge pools offer absolute privacy and majestic views.

The unusual, yet subtle "Afrochic" décor integrates natural elements with colours highlighting Africa's ambience, with each suite boasting soft sofas, voluptuous mosquito netting and cotton picot linen. Your suite has been designed for complete relaxation and comfort, with fireplaces and under-floor heating for the winter months, and for summer, overhead fans and air-conditioning, proving a welcome respite from the harshness of the African heat.

Outside showers, romantic bathrooms and concertina glass doors allow you to truly feel at one with the environment.


FACILITIES
--------------------



- Heated Floors
- Air conditioning
- Mosquito net
- Tea/ coffee making facilities.
- Private Plungepool