Kambaku Safari Lodge
Nestled in the heart of the renowned Timbavati lies the Kambaku Safari Lodge. With panoramic views of thousands of hectares of unspoilt bush, abundant game and a rustic ambience, Kambaku provides the ultimate escape from busy schedules to enchanting serenity.Creating a feeling of relaxed intimacy, the camp accommodates just sixteen guests and is ideal for hosting small family gatherings, friends or exclusive business events. To truly immerse yourself in the rustic bush experience, our chalets are equipped with lanterns for light, eco-friendly battery power for fans and gas geysers for hot water. For those romantics in pursuit of a little pleasure, our rooms are also equipped with four poster beds, crisp white linen and draped mosquito nets.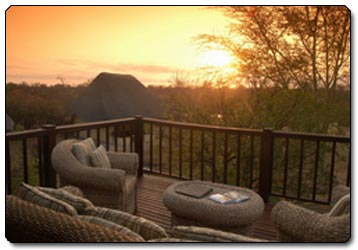 ACCOMMODATION
--------------------



Accommodation at Kambaku Safari Lodge comprises of seven thatched, en-suite chalets that are situated in a semi-circle overlooking a waterhole. Each of the seven thatched chalets contains a full en-suite bathroom with both a shower and a bath.

Chalet One – Honeymoon Suite
Decorated in the best of ethnic, our exquisite honeymoon suite exudes luxury and elegance. Walls are adorned with aged black and white photographs, giving it a feeling of timeless appeal and the king-sized four-poster bed, funky beaded throws, bright cushions and plush accessories affirm its splendour. A private patio with a view of the waterhole yields the best that Mother Nature has to offer, ensuring a blissful haven for any newlywed.

Chalet Two
A double room with en-suite bathroom that includes 'his' and 'hers' basins. The suite boasts a private veranda with lavish views of the waterhole and lodge.

Chalet Three
A family chalet with a double bed in the main room and two singles in an adjoining room. Ideal for families, the adjoining room has access to the en-suite bathroom via the main room. The chalet overlooks the lodge's immaculately manicured gardens.

Chalet Four
A family chalet with both a double and a twin room, each with their own separate entrances. Each room also has a separate entrance to the shared en-suite bathroom. The chalet overlooks the camps sparkling swimming pool.

Chalet Five
A double room with a king size bed and bathroom en-suite that includes a raised bath. The chalet is located close to the main building and its amenities.

Chalet Six
A twin room with an en-suite bathroom that also boasts a raised bath overlooking the waterhole in front of the lodge.

Chalet Seven
A double room with an en-suite bathroom that includes a raised bath overlooking the bush.




FACILITIES
--------------------



- Lanterns for light
- Eco-friendly battery power for fans
- Gas geysers for hot water
- Mosquito net
- Swimming pool



ACTIVITIES
--------------------



- Game Drives are early mornings or late afternoon
- Bush Walks